WHO ARE

KNOWHERE JOURNEYS

?

A conservation-tourism company which enables positive social and environmental impact in fragile environments. The first KnoWhere Journey launched in Myanmar in spring 2019. Our intention is to expand the company's super-light footprint into destinations ill-suited to hard construction because of their remoteness, sensitive community issues and delicate ecology. We work in partnership with senior conservationists already operating in the field.
WHAT IS
KNOWHERE MYANMAR?
The first KnoWhere initiative was designed in collaboration with conservationists, Jon Miceler and Aung Myo Chit, in Northern Myanmar as a way to improve the well-being of one of the country's most vulnerable timber elephant populations, their mahouts and extended families,and the remnant hardwood forests they inhabit.
WHERE ARE THE KNOWHERE MYANMAR
CAMPS?
In Upper Myanmar – a region that has never been on the tourist circuit, and is unlikely to ever be. The nearest town is Katha, on the Irrawaddy River.
HOW DOES KNOWHERE MYANMAR BENEFIT THE CONSERVATION AGENDA?
Domesticated elephants have been used to extract timber from Myanmar's hardwood forests for centuries. Today, the majority – around 5,000 elephants – are owned by Myanmar Timber Enterprises ("MTE"). In 2016, the Myanmar Government issued a moratorium banning further logging in Myanmar to protect the country's rapidly shrinking forests. This put the elephants and their mahouts largely out of work, making them vulnerable to exploitation and poaching. Low impact tourism in Myanmar utilises both MTE's out- of-work elephants and the pristine teak heartlands the moratorium was designed to protect, providing visitors with unprecedented access to this rarely seen part of the natural world. When the tourism benefits flow, it gives communities a reason to protect their wildlife and its habitats while providing them with improved livelihoods for their stewardship.
THE TEAM
SPECIALIST, SCIENTIFIC AND EXPEDITION LEADERS
In-country partners Aung Myo Chit and Jon Miceler, two dedicated world-class conservationists, are tackling complex conservation issues in this land of temples and tribes.
The trip is led by veteran conservationists Jon Miceler and Aung Myo Chit. Jon and Aung are easy company, helping guests spot some of the region's rarest wildlife while also entertaining with stories from their diverse careers in conservation and nature tourism throughout Myanmar and Greater Asia.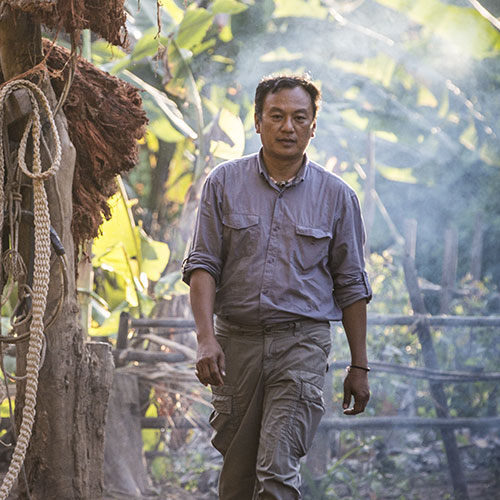 Aung Myo Chit is one of Southeast Asia's preeminent ecologists. His training began as boy growing up in Myanmar's Shan state where he supported his uncle as a horse packer moving food and other supplies between villages of this remote corner of northeast Myanmar when there were few roads, only footpaths.
Throughout the latter half of the 1990s, Aung Myo Chit supported and guided many foreign field naturalists on expeditions in search of Myanmar's rich biodiversity. There are few corners of Myanmar he has not walked or swum across. Beginning in the late 1990s Aung Myo Chit worked as a consultant to tour operators in need of field naturalists and worked on a series of multi-year film projects which focused on capturing on film the hidden ecology of Myanmar, a film called Elephant Power, and a documentary called Sea Gypsies of the Mergui Archipelago-both aired on National Geographic.
From 2006- 2012, Aung Myo Chit was the Wildlife Conservation Society's country coordinator for the Irrawaddy dolphin. During this period Aung Myo Chit trained remote communities along the Irrawaddy river in conserving the river dolphin-a species they have worked for centuries with in symbiotic relationship based on co-benefit from fishing. In Myanmar today Aung Myo Chit is Country Coordinator for the Smithsonian Institution.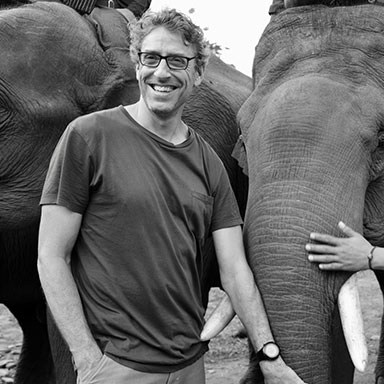 Jon Miceler
Jon Miceler has over 25 years of conservation experience in Asia, nearly 20 of which have been intermittently in Myanmar. His focus has been community-based conservation and conservation travel. He is the founder of USA based Inner Asia Conservation and recently completed 10 years as Managing Director of the World Wildlife Fund's Eastern Himalaya Programme focused on protecting tigers, wild elephants and rhinos in India, Nepal, Bhutan and Myanmar. During this WWF tenure he and his team secured over $100 million in conservation financing for the larger Himalayan region.
Since 1996 he has co-produced five documentaries on the Himalaya and adjacent regions including Burma's Open Road a film that explores the social, economic and environmental implications of re-opening the Old Burma Road in Myanmar. He holds a MS in environmental science from Yale University and the University of Colorado, Boulder. He recently published a children's book on snow leopard radio collaring work in Nepal.