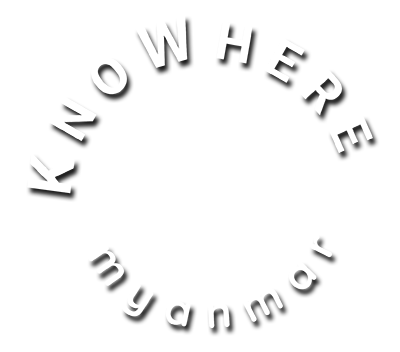 WHO ARE

KNOWHERE JOURNEYS

?
A conservation-tourism company which enables positive social and environmental impact in fragile environments. The first KnoWhere Journey launched in Myanmar in spring 2019. Our intention is to expand the company's super-light footprint into destinations ill-suited to hard construction because of their remoteness, sensitive community issues and delicate ecology. We work in partnership with senior conservationists already operating in the field.
WHAT IS
KNOWHERE MYANMAR?
The first KnoWhere initiative was designed by Aung Myo Chit, in Northern Myanmar as a way to improve the well-being of one of the country's most vulnerable timber elephant populations, their mahouts and extended families,and the remnant hardwood forests they inhabit.
WHERE ARE THE KNOWHERE MYANMAR
CAMPS?
In Upper Myanmar – a region that has never been on the tourist circuit, and is unlikely to ever be. The nearest town is Katha, on the Irrawaddy River.
THE JOURNEY
Experience remote, rural Myanmar in the company of elephants which is entirely free of the captive, staged atmosphere of the elephant camps in other parts of Asia. Your participation will protect Myanmar elephants.
Read More
CAMPS
Village Camp is modelled loosely on a traditional Burmese village, built with reclaimed teak timbers salvaged and refurbished from old village structures. Situated around a natural creek, facilities include a dining hall, sleeping bungalows with verandahs, and restroom facilities with large showers.
Read More
Join a land and boat based journey through Myanmar in a trip created to
educate and inspire
, while also contributing to critical conservation and considering the newly arrived globalization that is quickly changing this land, its people and
wildlife
.
WHEN ARE THE CAMPS OPEN?
Our KnoWhere Myanmar journeys run during the dry winter season (from November through March) when the skies are clear, evenings are cool and mosquitos virtually non-existent.
WHAT LANGUAGES ARE SPOKEN BY STAFF?
English is the main language. Our Group Expedition Leaders also speak Mandarin, Burmese and Tibetan.
ARE CHILDREN WELCOME?
Yes, aged 12 and up. Younger children are permitted at the guest's discretion, with an awareness of the nature of the physical nature of the trip and the remote territory.
DO YOU HAVE MEDICAL SUPPORT?
All staff are trained in basic first aid, some to an advanced level. Defibrillators are available at both camps. Hospital attention is within an hour's drive of both camps. Please do note, however, that this is Northern Myanmar. All clients therefore have to have full medical and evacuation insurance before travelling with us.
Read More